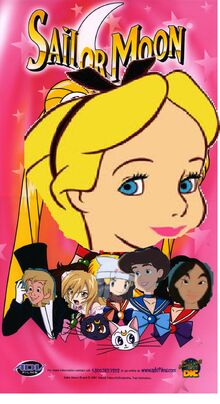 143Movies' TV spoof 1st version of Sailor Moon (English Adaption). It will appear on YouTube in the near future.
Serena/Sailor Moon - Alice (Alice in Wonderland)
Amy/Sailor Mercury - Melody (The Little Mermaid 2: Return to The Sea)
Raye/Sailor Mars - Mulan (Mulan)
Lita/Sailor Jupiter - Sena (Tai Chi Chasers)
Mina/Sailor Venus - Dawn (Pokemon)
Darien/Tuxedo Mask - Wart/Arthur (The Sword in the Stone)
Rini/Sailor Mini Moon - Annie (Little Einsteins)
Luna - Miss Kitty (An American Tail 2: Fievel Goes West)
Artemis - Tiger (An American Tail)
Diana - Pussyfoot (Looney Tunes)
Andrew - Pinocchio
Greg - Jim Hawkins (Treasure Planet)
Amara/Sailor Uranus - Gogo Tomago (Big Hero 6)
Michelle/Sailor Neptune - Honey Lemon (Big Hero 6)
Trista/Sailor Pluto - Jasmine (Aladdin)
Hotaru/Sailor Saturn - Princess Eilonwy (The Black Cauldron)
Molly Baker - Wendy Darling (Peter Pan)
Melvin Butler - Peter Pan (Peter Pan)
Queen Beryl - Winifred (Chip 'n Dale Rescue Rangers)
Jedite - Count Dracula (Scooby Doo and the Reluctant Werewolf)
Neflite - Yami Bakura (Yu-Gi-Oh)
Malachite - ???
Zoycite - ???
Zirconia - Himself
Tiger's Eye - Himself
Fish's Eye - Herself
Seasons:
Edit
The main reason Miss Kitty is Luna, Tiger is Artemis and Pussyfoot is Diana in this spoof, because they are both cats.
Gallery:
Edit